iText DITO: a document generation tool for mateco
One of our clients, mateco, is an international rental and sales company of industrial equipment, such as forklifts, access and warehouse equipment. A couple of years ago, mateco decided to completely renew their IT Landscape with state-of-the art technologies in a microservice way of thinking. We helped mateco to facilitate the flow of their data and to make sure that it was in motion across all their apps and their central ERP system. Next to the fact that they wanted to be able to generate documents, they also wanted to design those documents and templates. That's where the integration of iText DITO came in.

The challenge
Mateco rents and sells (second-hand) aerial platforms, forklifts and earthmoving equipment over 150 locations across the globe. Six years ago, they wanted to transform their business program and align their branding, processes and IT systems. Their goal was to replace their different ERP systems with new, sustainable and futureproof technology. For everything that was not core-business (like finance, HR …) they bought a package, but for the part that they see as their core business, such as Rental Process, Service & Repair, … they decided to custom build applications and services from scratch. They came knocking at our door to help them to capture their business behaviour on one central event hub where all their data would be gathered. From there, they could generate documents.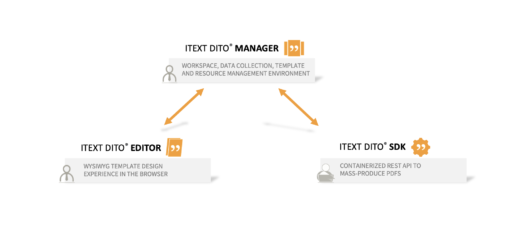 The solution
iText DITO bridges data and PDF documents in the sense that they enable you to use your own data to create customised documents which enhance your communication with customers, employees, and so on. In order to do this, you don't need coding experience whatsoever: it's a very user-friendly solution. At any rate, mateco wanted to make sure that their customers would have sufficient and solid PDFs provided to them which isn't easy in a microservices landscape since all data is scattered.
That's exactly the beauty of the solution: thanks to iText DITO we could support them in generating PDFs from their own data that is being collected in a central event hub. We decided together that we did not only want to be able to generate documents but to design them as well. iText DITO allows that and offers other possibilities too, such as supporting multiple languages, which is perfect for this case as they are an international company.
Mateco is a big organisation with over 100 developers in service who already knew how to work with iText Library. As such, it was easier for them to explore iText DITO. The fact that iText DITO also has a browser-based editor was definitely the biggest benefit for them. Other providers often ask you to install extras which increase your footprint on systems, while mateco was looking for zero touch and footprint. iText DITO could meet this demand which is why the collaboration and synergy was as great as it could be.
an overview of the architecture into which iText DITO was integrated, to handle their PDF template design and generation
Results and next steps
At Cymo, we want to help businesses in their evolution to become powerfully event-driven, which is why we enjoyed helping mateco with their Event-Driven Architecture landscape. We leveraged the full potential of EDA for mateco by providing our services that helped them to change rapidly and efficiently. Cymo DocGen ensured maximum value by implementing iText DITO in our own environment, thereby taking care of maintenance and upgrades. It is scalable and connected to mateco's EDA. Furthermore, it gathers all data, and it is available and present for the iText service to generate documents based on the predefined designed templates. That is how we provided mateco with a full-service solution.
Our next move, as Cymo, is to host iText DITO as a managed service to our other customers to relieve them from particular concerns and to make sure they can focus on their business. We're looking into things with iText to see how we can strengthen our partnership and combine our forces to help each other and grow together. By being an experienced partner, situated between big technology players and our customers, we aim to elevate our client's EDA maturity.
Did we pique your interest in Event-Driven Architecture and/or the Cymo DocGen platform and the way it can help your organisation? Contact us and we'll be happy to sort you out!
Contact
Written byWout Florin