Introducing Cymo
We'd like to introduce Cymo: a new start-up founded by Wim Debreuck, Kris Van Vlaenderen and Bryan De Smaele. Cymo combines the expertise of three enthusiastic cloud solution architects with a shared passion for event-driven design.
Wim is the most experienced member of Cymo. Back in 2004, he founded Debreuck-Neyrinck together with his partner Wout Neyrinck. Next to his responsibilities as managing partner, it's important for Wim to still work as an integration architect to keep in touch with the working floor.
Kris has been active in IT for over 20 years, first as a software developer and now as a solution architect. He designs software architecture and supports development teams.
Bryan is a 30-year-old cloud architect with a keen interest in everything tech-related. With his college background in ICT electronics and experience working in software development, Bryan certainly knows his way around technology.
How did we meet?
For the last couple of years, Bryan, Kris and Wim have been working together on a digital transformation program at mateco. As part of their digital transformation program, they wanted an end-to-end innovative IT system to support the needs of both internal and external customers. To make sure that their microservice landscape remained future-proof, mateco chose a fully Event-Driven Architecture (EDA).
Both Kris and Wim were active as solution architects who designed the architecture for mateco's domains, coached the development teams on how to make their applications event-driven, and applied best practices, like using Kafka as their middleware. They appointed Bryan as the lead cloud architect to make sure that the landscape remained fully cloud-native.
During this project, Kris, Bryan & Wim identified a lot of opportunities for implementing Event-Driven Architectures. To coach other solution architects at mateco and design standards and productivity tools, they founded Cymo. This meant they could support customers in their event-driven journey.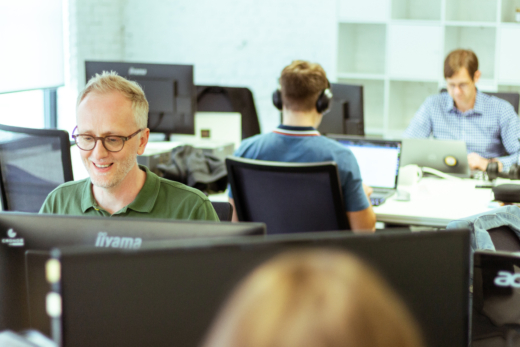 Kris, Bryan & Wim are the perfect mix!
Cymo combines the years of experience that Wim brings in from a business architecture perspective with Kris' connection between development and architecture and Bryan's skills as a tech wizard. Together, they can unlock the full potential of Event-Driven Architecture for their customers.
Cymo supports enterprises that want to react faster to changes in the market and optimise their business processes with data-driven decisions. They make sure that their customers can make the most out of Event-Driven Architecture. Their services range from audits and reviews of existing setups to strategic partnerships. Those long-term partnerships include roadmaps for EDA maturity, as well as best practices and lessons learned.
By working closely together with the customer's business and IT departments, Cymo ensures a quality result. Every project sees our solution architects joining customer teams for an agile project approach, be it on-site or remote. If needed, we will even set up an internal community to share best practices such as naming conventions or technology choices.
Cymo aims to be the centre of expertise for Event-Driven Architecture. We are the go-to company for both new and existing EDA implementations. We're also working on building a SaaS platform to integrate the business and technology perspectives of EDA. After all, that's where we think the true power of Event-Driven Architecture lies. By bringing these departments together, both can continue to interact and grow at the speeds they desire.
Curious to know more? Don't hesitate to contact us, and we'll gladly explain the potential of EDA for your organisation!
Contact us
Written byWout Florin